Grasshopper Project
Taking Mindfulness to the Local Bistro: A Culinary Journey Outside the Omega Institute 
I am blessed everyday to discover amazing, talented change makers in some of the most unlikely places in the world. I met Madison on my first visit to The Omega Institute in the summer of 2016. From the moment I met her, I knew there was something special about her, and that was going to be a superstar in this world. Her gentle ways, combined with her quite wittedness and unmistakable charm, along with her ability to use choice words to describe places, people, and things captivated me and led me to test her potential as a member of the Grasshopper Project. This is her, how you say, her aptitude exam. Follow her on Instagram at @sungoddesss. – EBV
By Madison Green, Experience Contributor
Tucked away on a beautiful country road in upstate New York lies the Omega Institute, one of the top holistic education centers in the United States. Resting on 250 acres, Omega provides a healing space for individuals from all walks of life. People come from all over the world to attend the diverse variety of courses they have to offer, or to take a week to relax and rejuvenate. It is off-grid with a touch of luxury and comfort, while still being in a very natural environment. Guests weeks are filled with an abundance of movement and wellness classes, delicious locally sourced food in the dining hall, specialty items in the Cafe including raw vegan cheesecake and many other treats. People leave campus feeling an overall sense of balance and nourishment not just for the body, but for their soul.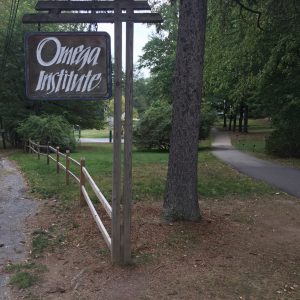 Omega is a hidden gem where you feel very hidden away from all the hustle and bustle of the "real world," but all it takes is a 10 minute drive to enter the beautiful nearby town of Rhinebeck. Rich in history and culture, this quaint town offers a variety of restaurants and locally owned businesses for those who want to venture out while they are retreating at Omega. Walking through the charming downtown scene, people can see what life is like for people living in the Hudson Valley. People with warm smiles across their face, walking their dogs, musicians on the corner playing music, it is a wonderful place to people-watch, stop by some unique shops, and try some of the amazing local fare Rhinebeck has to offer.
One of the oldest and most reputable restaurants in town is Le Petit Bistro. This charming restaurant sits on the corner of the downtown scene, and offers a low key dining experience for both locals and people traveling through. Le Petit has a very laid back interior, customer attire ranging from dressed up to very casual. Featuring romantic, cozy ambiance and two sides to the restaurant; one half is the modern newly renovated, the other offers the more classic, intimate dining setting and a smaller bar.
Within minutes you are greeted by a friendly server, coming prepared with fresh baked bread and butter. The bread was the perfect start to the culinary whirlwind to be experienced; crispy exterior, and opening up to a steaming, pillowy goodness in the center. Le Petit Bistro offers a variety of specials that rotate often, many of which were an interesting surprises. But this is no ordinary classic French restaurant, this is a journey across the board of local affaires, tied into French roots, with a splash of exotic flavors from other countries all tied in together in an elegant setting.
For the first course, I was greeted to a well-portioned plate of locally harvested mushrooms called "Chicken of the Woods," chopped and placed over a bed of linguini and topped with a creamy sauce. This plate was one of their specials for the evening, offering a taste of a seasonal specialty. Chicken of the Woods are harvested on trees in surrounding areas and are a very delectable addition to many meals. In this particular dish, it offered a meaty texture, with a good bite to it. It carried a subtle flavor that reminded me of steamed clams. It was the perfect addition to this savory dish. I loved knowing I was trying something that was freshly picked off a tree nearby. It had this wild, natural quality that you feel so closely connected to while staying at Omega.
The second dish was roasted beets with goat cheese, toasted hazelnuts, and red currant vinaigrette with a side of raw greens. Every element in the dish tied together so perfectly as a refreshing and earthy blend. The goat cheese provided the perfect amount of tang and sharpness to compliment the sweetness of the currant vinaigrette. Nothing on the plate was overpowering another flavor, everything was playing together in an effortless dance of textures and flavors.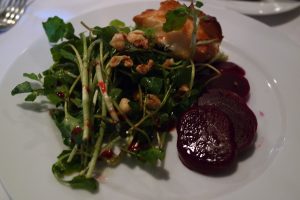 The final entree for the evening was an impulsive decision to go with another one of the specials for the evening. When this dish was brought out, heads turned, unexpected smells wafted through the air, and guests came up and asked if they could photograph it. On a fairly large plate was a whole red snapper, flash fried and accompanied by Japanese eggplant, spinach, coconut jasmine rice paired with a Thai chili glaze. This was very outside the comfort if barriers of what we think French restaurants should offer us when we dine with them. That was the beautiful part; it shocked everyone. It causes you to forget all presumptions, and to laugh and be present and in the moment with what is being presented to you. This is one of the principals you practice at Omega, being in the now, and going with the flow to the curveballs life is constantly throwing at you. You want to go to a French bistro and experience escargot? No…here's a fish dinner with Asian roots instead. But above all else, it looked delectable. That was all that mattered, right? After the first bite, I was hooked. The meal was paired with a glass of sparkling Rosé, a beautiful addition to this incredible presentation. The snapper was crispy on the outside, and cooked to perfection on the inside. The eggplant and spinach were marinating in the chili glaze on the bottom, not too sweet, not too savory, a satisfying balance between the two. Everything on the plate was there to compliment the beauty of this whole fish, it was the centerpiece, a work of art. I washed down the hint of heat from the chili sauce that lingered behind with the Rosé; crisp and revitalizing, bringing me back to Earth after being swept away in this glorious paradise of spices and sweetness and floral flavors. The plate was cleaned in no time, the flute of Rosé had been savored down to the last sip, and I was full of bliss.
For the grand finale, after this excursion between worlds and culinary contrasts, the evening had to end with a classic French fare. I'm sure you can guess what it was…
Crème brûlée.
The perfect way to end my evening with this quirky bistro. Taking the first bite, I was once again thrown into a journey of pure indulgence. Accompanied by a glass of ruby port that was sweet yet included a distinct bite at the end, it was a dessert fit for the gods. Breaking the outside sugar layer and diving into the divine custard filled center was a mouth watering experience. I closed my eyes and savored the warm, smooth caramel-vanilla flavor.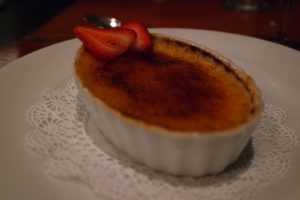 Every course at Le Petit Bistro left me wanting more. I was eager to try every plate, but also savored the in-between moments after each sip and bite. The entire meal was a sensual journey through pleasurable sights, tastes, and smells. This is the essence of any good French restaurant, enjoying the finer things in life. It allows you to take the time to savor the luxurious gift that is being presented in the form of a plate of food, or a full glass of wine. Le Petit was the perfect place to spend an evening away from the Omega Institute, and a perfect restaurant to understand the culture of Rhinebeck and the Hudson Valley. Alongside knowledgeable staff who was always attentive and enthusiastic to answer questions about the local favorites and recommendations, the mellow scenery invited me in and time passed by with ease throughout the night. Le Petit is an essential addition to anyone's upstate experience whether you are retreating at the Omega Institute  or driving by for the day.
For more information on Le Petit Bistro and menu, please visit their website:
For more about the Omega Institute: