Performance Science
3 Lessons Learned from the New Zealand All Blacks
The All Blacks are the most dominant team in the history of the world. They have a 78.4% winning percentage in the past 112 years. In the 20 years since the Rugby has become a professional sport, it's gone up to 84%. And in the four years since the last world cup, they've been working with a cool 93%. (Bull, 2015) Imagine being an opponent to a team that will likely beat you almost 8-9/10 times every time you play them. That's pretty insane odds…against you.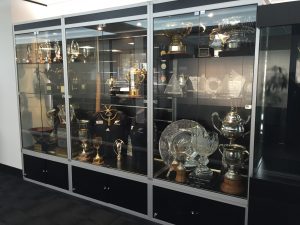 As a leader of my own Medical/Performance Team in professional sport, I've wondered deeply and often how my counterparts in that side of the world work, and was very interested in finding out ways to apply some of their knowledge and experience within my own staff, and hopefully, our own team. As with everything, it all begins with asking the right questions: So why are the New Zealand All Blacks so dominant? And how do they manage to continue to win, despite being a country that has more sheep than man? The answer, I found out, at a recent visit with the All Blacks and New Zealand Rugby, lies in one simple word, carried through the generations…CULTURE. 
I sat down with Don Tricker, High Performance Director of the New Zealand Rugby (the man in charge of keeping this "culture" intact) last August and was truly humbled by what I learned in Wellington, New Zealand. Below is a mix of questions I asked him personally (along with his answers) followed by the three (3) most important lessons I learned during my brief yet very informative visit with arguably the best organization in all of sport history.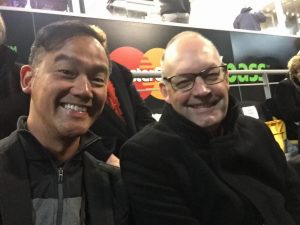 What's the difference between New Zealand Rugby and the All Blacks? 
"New Zealand Rugby is the governing body of the sport of Rugby in New Zealand, of which the All Blacks lie under, along with Super Rugby Union Teams and other smaller divisions."

What is your exact role with New Zealand Rugby? 
"To teach how to be more efficient on the management side, not on athletes. Hunting out the sacred cows AND STRIPPING it out. Asking the questions that no one wants to ask or challenge." 

What are the qualities of the people you put together to ensure a Quality Team? 
"Three main qualities – resilient, smart, and aligned." 
Resilient – Walk towards pressure, no excuses, No sideways moaning, Rugby is an 85 min game, storms are weathered best by those with the right clothing (people made of the right stuff…they don't cave in…they don't become the victim); 
Smart – self reflection, giving and receiving feedback, outlearn the opposition, adapt quicker in the moment (smarter than the other guy, make adjustments on the fly)
Aligned – multi-dimensional – inside and outside the team, Management, Coaching, coaching and leaders, leaders and players, alignment is key (without alignment we waste time)

Why is it important to have a "High Performance Management Team"
"Management team is the biggest constraint to performance. Alignment occurs through Role Clarity."
*High Performance Management Team (Executive Team) —> Independent Coaching Units (IOUs) —> Individual (Skills Coaches, Wellness, Operations)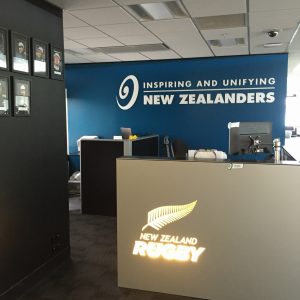 What does the High Performance Management Team look like with New Zealand Rugby?
The New Zealand Rugby 2020 strategy (All Blacks, National teams, Rugby World Cup Team, Olympic Team) 
High Performance Strategy Success Profile
– Build a single team to lead the way the game is played, 
– Develop players that coaches want to select (skill sets – run, catch/pass, tackle), 
– Choosing the best people to place strategy together, driving competition structure and securing "personnel" investment  
High Performance Team Success Profile
– Families love and support working at New Zealand Rugby
– Nailing priorities by working together and valuing each other
– Recruited, developed and retained quality people that added value the to the team and New Zealand Rugby Union
– Creating an environment enabling everyone to perform, learn, celebrate success, and laugh
–  Develop mutually beneficial relationships, both, inside, and outside of the wider New Zealand Rugby community
– Close lanes and use the brains for group wide development. How? By poking, prodding, and laughter, with no one person telling another what to do

How do you ensure that the High Performance Management team, staff, and players remains sharp? 
"Every start of the season there is a "probe", a questionnaire to determine where you area professionally and personally. 

*PROBE (On a piece of paper write 1 to 10 down the page, thinking about your role)
1-3 – write down 3 words that describe your role 
4-5 – what energizes you about the year ahead?
6 – one thing you are missing?
7 – one thing you are ignoring? 
8 – one thing that you are avoiding?
9 – one thing you can do better?  
10 – one things you can do differently? 

What is the biggest lesson they've learned in their more than 100 years of success? 
1. No sliver bullets or magic potions (can't out perform your preparation)
2. Success is a lousy teacher (great teams understand why they win)
3. Build the team before the game (culture trumps strategy)

What areas is most important for the organization as a whole?
Talent Identification and Recruitment of that "proper" talent (both with staff and players)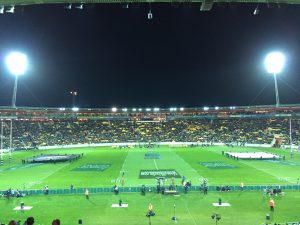 Here are the 3 Lessons I learned from spending time with "The World's Most Dominant Team in Sports History."

1. Better People Make Better All Blacks. To be an All Black, one must stand for class, pride, and what is right in this world. You are a certain "type"…a gentleman, a scholar, an observer. You didn't have to have the best grades in school, you didn't have to be the most talented, you didn't have to be the biggest, fastest, strongest — you just needed to be the one that work harder than everyone else to get to where you area. As the saying goes "Hard Work beats Talent every time." You are willing to compromise for the greater good, you are unselfish, confident, and understand that whether you like it or not, you area a role model not only to Kiwis but to the world. In boils down to being a good person. Ironic that the world's best sporting team sees that, above all, in determining who is lucky enough to wear the black and silver jersey. 
2. No Individual is Bigger Than the Team, No Team is Bigger Than the Sport of Rugby. Being an All Black isn't just a job. It's an honor. As you are "capped" to be a member of this very exclusive family (you can receive a cap even after playing only one game with the All Blacks), you are reminded of why you are here. The sport of rugby, especially in New Zealand, is dependent on the system and interest of rugby as it is played in the country. Similar to Major League Baseball, New Zealand Rugby has a system of playing rules, uniform rules, and a "farm" system that ensures consistent growth of the sport in New Zealand. What if I told you that that systems of growth is pretty much paid for by players in the All Blacks themselves? To elaborate, more than 50% of every All Blacks' salary goes back to the sport in order for it to grow, like a tax of sorts. That will never fly in any other professional sport, especially in any of the leagues in the USA. To put that into perspective, imagine if LeBron James, upon signing with the Heat a few years ago for $18 million/year, was told that he'd have to give more than 9 million of that back to the NBA for "development of the sport through grassroots initiatives"? I'm sure that response wouldn't have a "crisp, clean taste" to it. The All Blacks play for honor, for pride, and for the sport of Rugby. For the few that decide to make their money playing aboard, they'd have to leave the jersey and pass it on to someone who believes the sport is still bigger than them. 
3. Culture is king. To the All Blacks, success comes from a reflection and understanding of the past without dwelling in it. Both wins and losses are part of the past, along with the lessons learned. Always move forward. Through culture they've developed and discovered "self reliant, confident athletes that make great decisions under pressure", with the understanding that sport is about inspiring and unifying, with each All Black inspiring and unifying individually. If they do not enhance the quality of their fan base, then they are missing the point fully. The great All Black Captain Richie McCaw once said "It's about finding the joy in being an All Black Captain, as opposed to being burden." Where does this confidence come from? It comes from knowing that everyone has done the work, and with this confidence comes unconditional trust, enabling the athlete to do their job and no one else's. The same is true of the management team. But is there room for vulnerability? Confidence can only be achieved through vulnerability, and it's vulnerability that drives what needs to happen each week. Vulnerability cannot be manufactured. Without vulnerability, complacency ends up filling the void, giving way to lack on confidence, in turn, a wining mindset.